Experiences and the Region
The Region
The Mildura region is renowned for its big skies, rich earth and welcoming locals. Experience respected wine and bountiful local produce that is chosen in the preparation of great food served up at quality restaurants and available at markets, eateries and cellar doors. Discover breathtaking natural beauty, Mediterranean climate and fascinating local histories, stay overnight in comfortable accommodation at pubs, resorts, golf clubs and historic hotels. All of this is located near the region's life source – the wide, ceaselessly flowing Murray.
For more information on Mildura please take a look at: www.visitmildura.com.au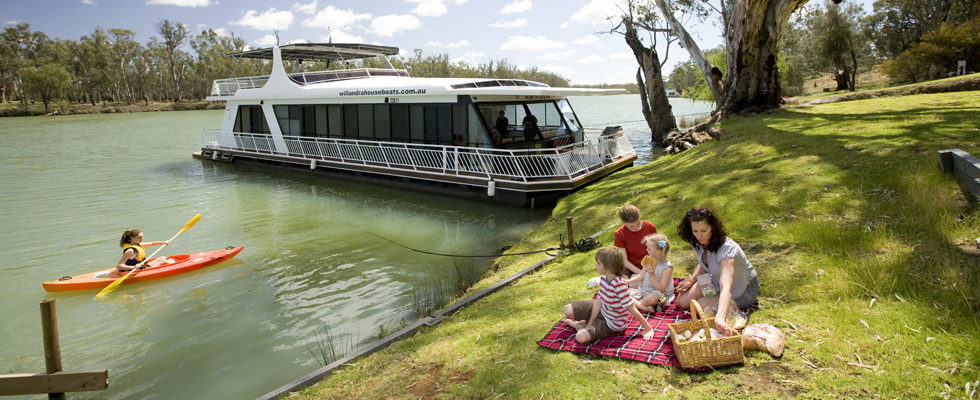 RAAF Museum
From 1942 until 1946, the Mildura Airfield was a RAAF Base being the home of the No 2 Operational Training Unit (20TU).  The role of 20TU was to provide operational fighter conversion and training to pilots before they were posted to their operational squadrons.  1247 pilots flew Wirraway, Boomerang, Spitfire, Kittyhawk and Mustang aircraft at the base.  Many famous airmen trained or instructed at the Mildura base including former Prime Minister John Gorton, SQNLDR "Bluey" Truscott DFC & Bar, WGCDR Bobby Gibbes DSO DFC & Bar and GPCAPT Clive "Killer" Caldwell DSO DFC.
To preserve this important part of Mildura's heritage, a Museum has been established in the old RAAF headquarters building which is one of only two remaining structures of a mini town.
The Museum contains a large number of RAAF memorabilia & displays relating to the activities of 20TU at Mildura and wartime operations elsewhere.  Visitors are welcome to leisurely browse the displays in four display rooms and the corridors or be guided by our friendly volunteer staff.
RAAF Memorial
The centre piece of the Memorial is a life size bronze sculpture of an Airman commemorating all Australian Flying Corps and Royal Australian Air Force personnel who did not return from service.  Surrounding the rear of the Memorial are three black granite smaller memorials listing the names of the 60 Mildura district airmen who did not return, 56 airmen training at Mda and 288 airmen who served at Mildura did not return after subsequent service overseas and in Australia.
Opening Times:
Fri, Sat & Sun
10:00am to 2:00pm
Or by appointment
Ph: 03 5022 7691 or
Ph: 03 5023 8828
Books on the fly
Created by Mildura Rural City Council Library Service
Available to all our travellers!
Have a look around the Book Swap and choose a book you would like to read. You are welcome to read it here or take it with you on your journey.
If you are carrying an extra book on your travels that you no longer need, leave it behind for someone else to discover. It is hoped that these pre-loved books travel far and wide.
The book swap has been set up to bring pleasure to those who travel through the Mildura Airport. It is free and environmentally friendly, so please take care of the space and the books.